Starters
Welcome to Primo Italian American Cuisine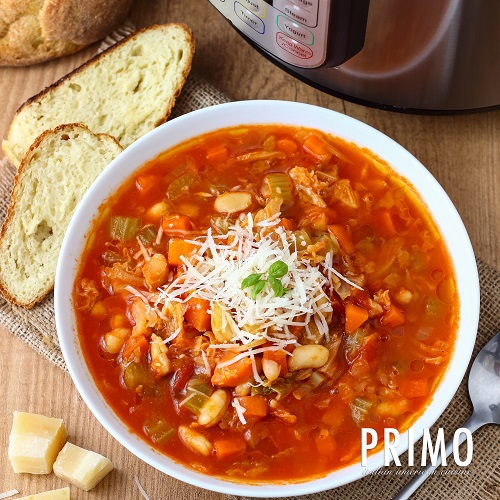 Minestrone Soup
Italian-style with vegetables & ditalini pasta.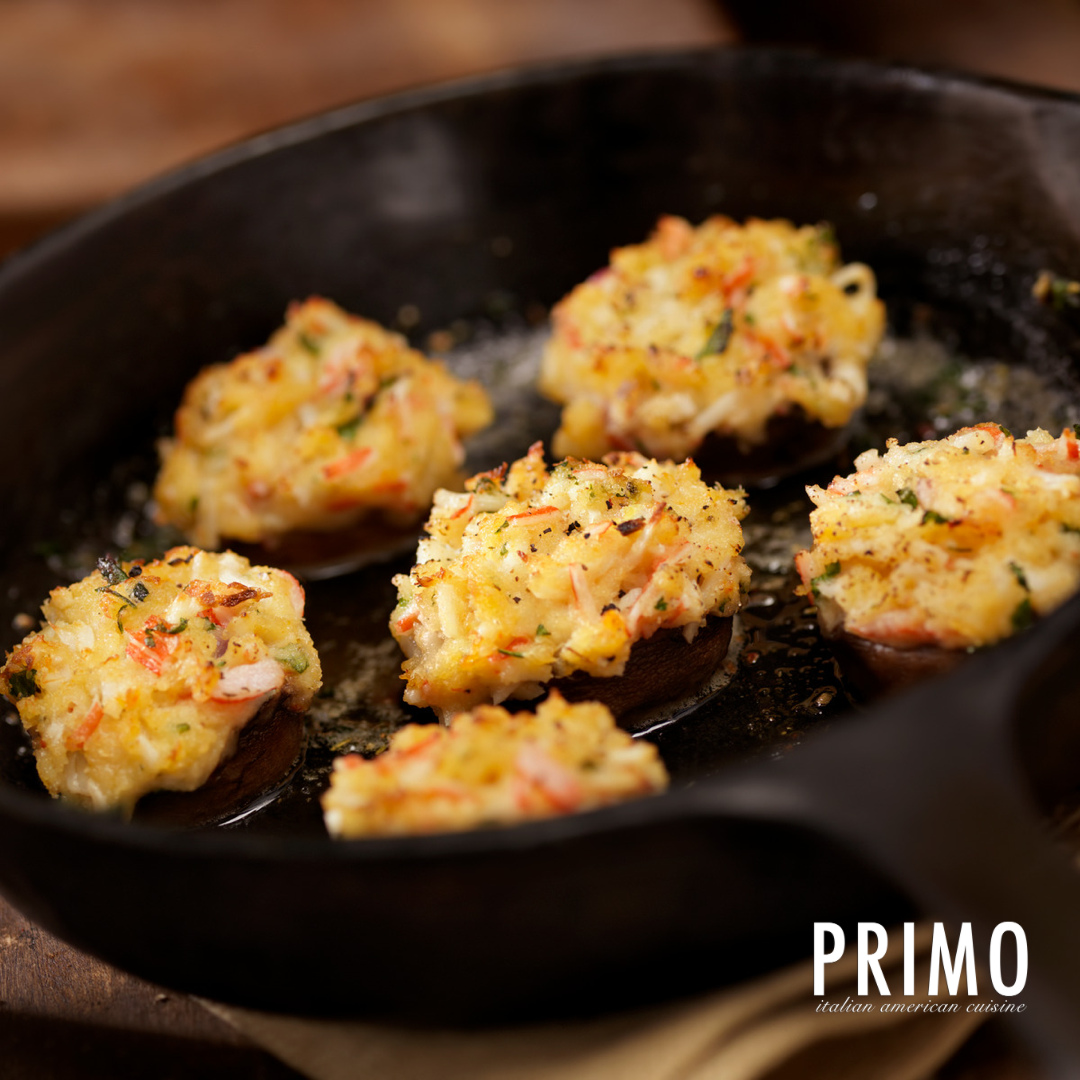 Crab Stuffed Mushrooms
Fresh lump crab mixture stuffed into large button mushrooms, topped with a spicy aioli.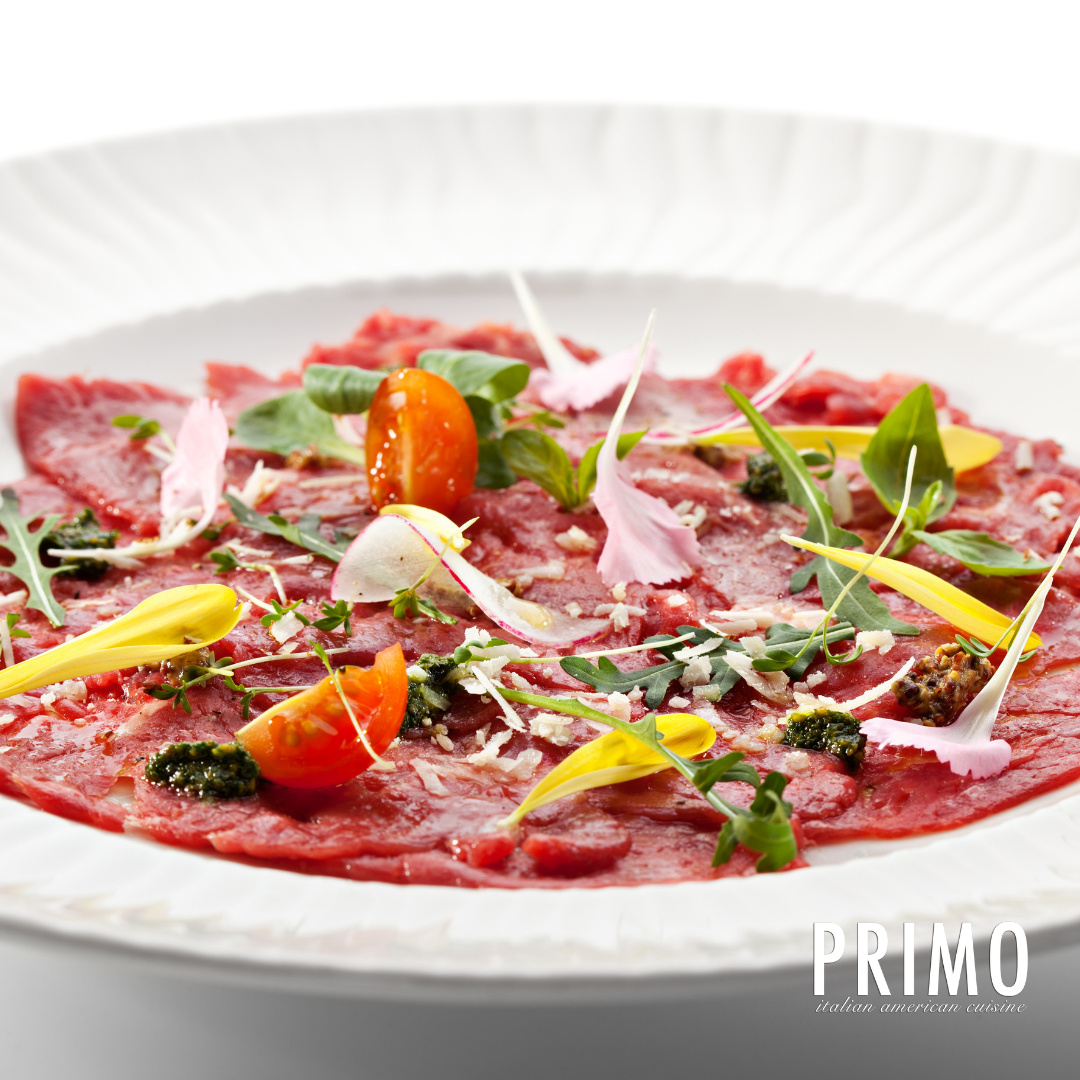 Beef Carpaccio
Thinly sliced prime beef tenderloin with capers, red onion, virgin olive oil, fresh cracked pepper and sea salt. Served with a parmesan crisp.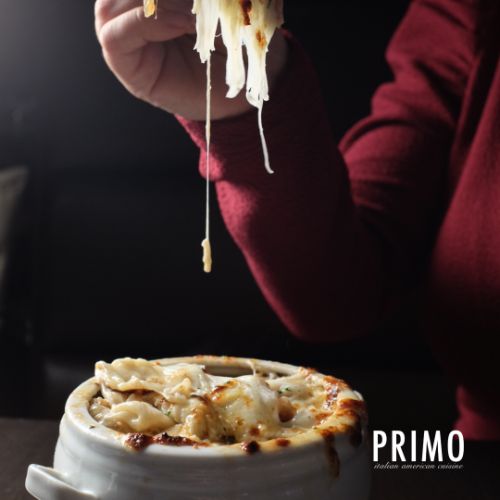 Baked French Onion Soup
Finished with baked provolone cheese.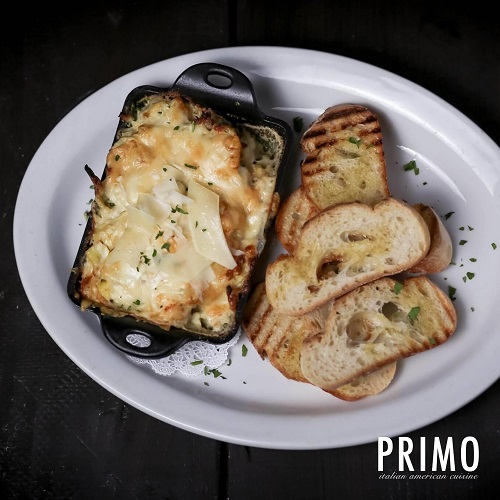 Roasted Artichoke Spread
Garlic & Parmesan roasted artichokes blended with our four-Italian cheese spread. Served with grilled crostini.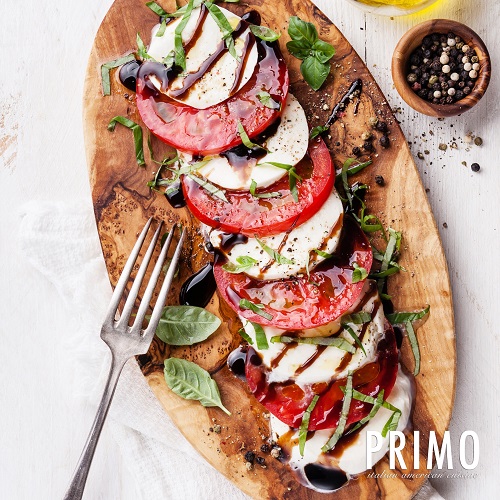 Caprese Salad
Beefsteak tomatoes, buffalo mozzarella, & fresh basil. Finished with balsamic glaze, basil oil & course sea salt.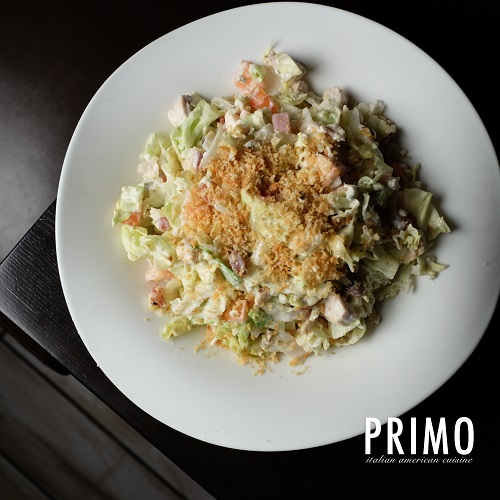 Primo Chopped Salad
Iceberg & romaine lettuce tossed with fire-roasted corn, grilled chicken, pancetta, bleu cheese crumble, tomato, ditalini pasta, garlic crunch & creamy garlic dressing.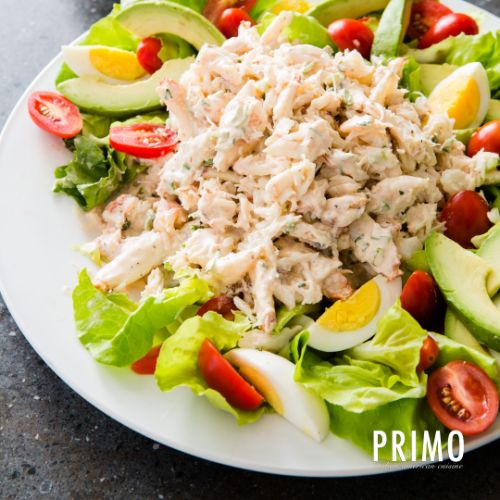 Crab & Shrimp Louie
Chilled lump crab, jumbo shrimp, hard boiled egg, shaved asparagus, cucumber, tomato, mixed greens, with thousand island dressing.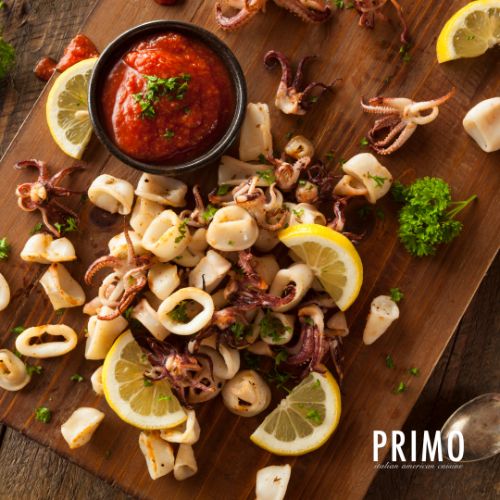 Crispy Calamari
Fried hand-battered calamari with roasted red peppers & served with house dipping sauce.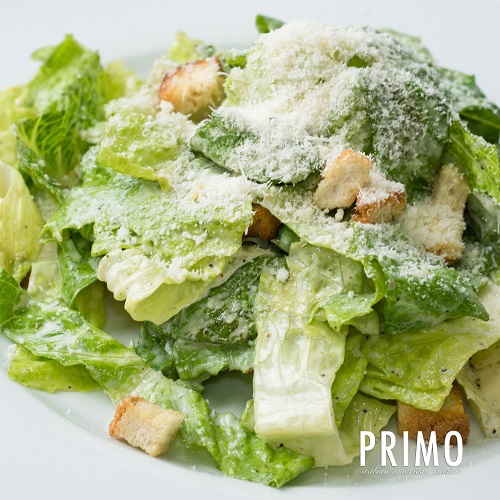 Primo Caesar Salad
Add chicken $4 - Add grilled shrimp $9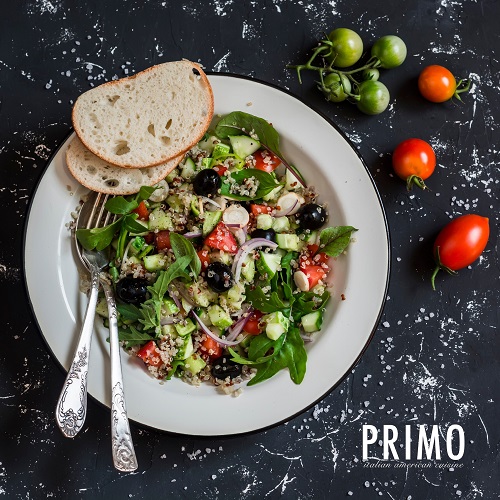 Mediterranean Chicken Salad
Mixture of romaine, iceberg & arugula tossed with grilled chicken, chick peas, feta cheese, kalamata olives, baby heirloom tomatoes, red onion, avocado, cheese tortellini, pomegrante seeds, a Mediterranean vinaigrette & a dash of oregano.
Shrimp Cobb Salad
Mixture of organic lettuce, six poached shrimp, roasted corn, crispy Italian pancetta, diced egg, chopped avocado and gorgonzola cheese, finished with homemade thousand island dressing.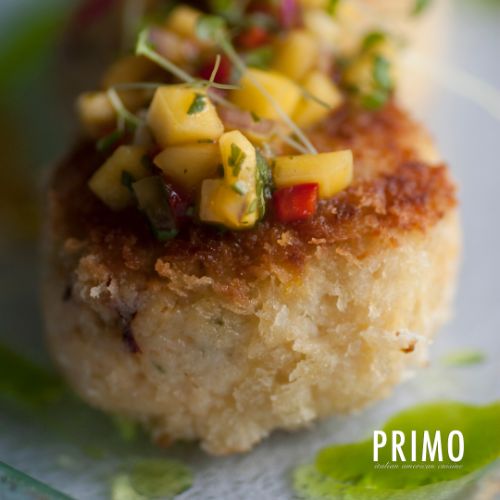 Crab Cakes
Jumbo lump crab, mango salsa, red pepper & scallion aioli.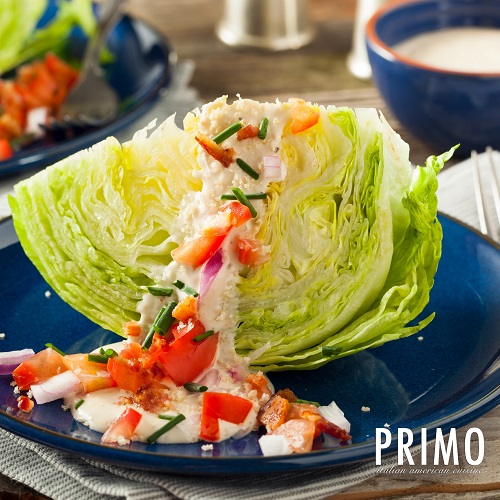 Primo Wedge Salad
Iceberg lettuce wedge, bleu cheese crumble, egg, pancetta, pickled onion, house bleu cheese dressing & topped with a crispy onion ring.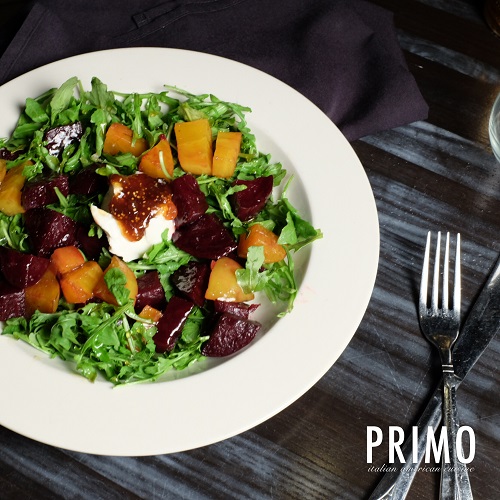 Burrata & Roasted Beet
Red & golden roasted beets, arugula, pomegranate seeds, burrata cheese, local honey & coarse sea salt. Finished with fig jam.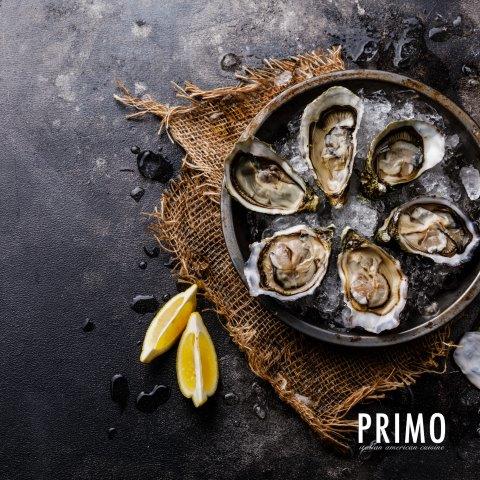 Seasonal Oyster (gf)
Served with red wine mignonette, spicy cocktail sauce, tabasco & lemons.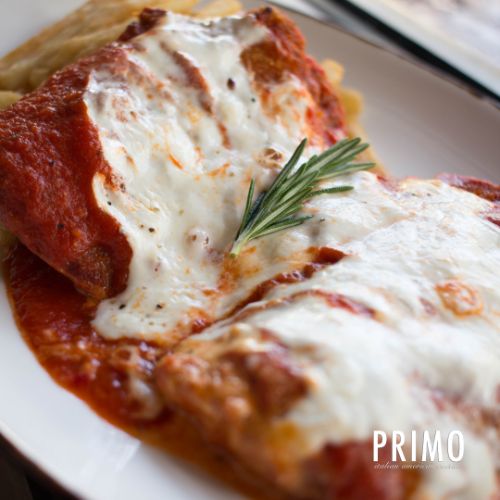 Italian Saganaki
Crispy mozzarella cheese flamed tableside. Served with tomato sauce.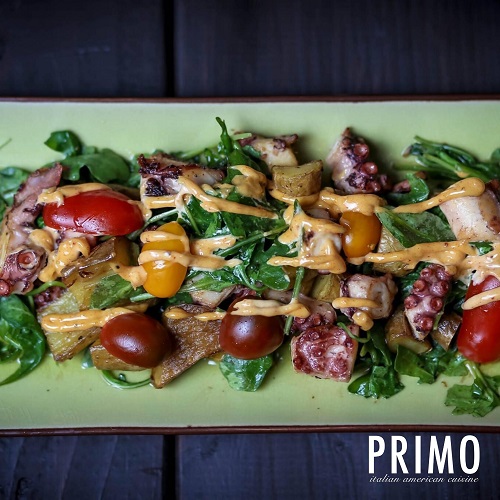 Grilled Octopus
Grilled Spanish octopus tossed in Mediterranean oil with baby heirloom tomatoes, roasted fingerling potatoes & crispy baby arugula.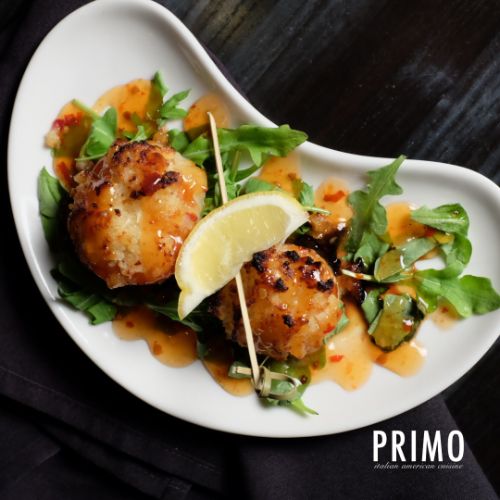 Sweet & Sour Scallops
Two jumbo seared scallops with Parmesan crust & a Thai-chili sauce.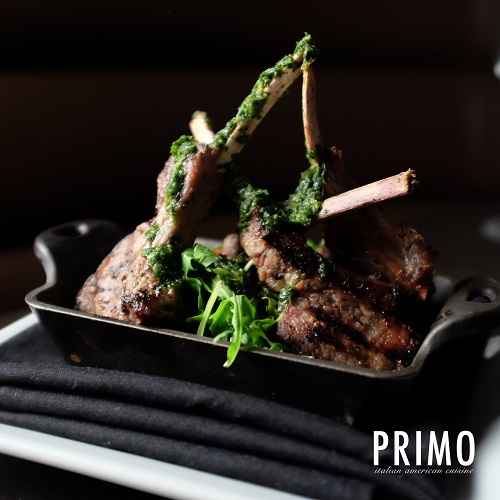 Lamb Lollipops
Grilled lamb chops with a mint, basil, lemon & garlic-infused olive oil.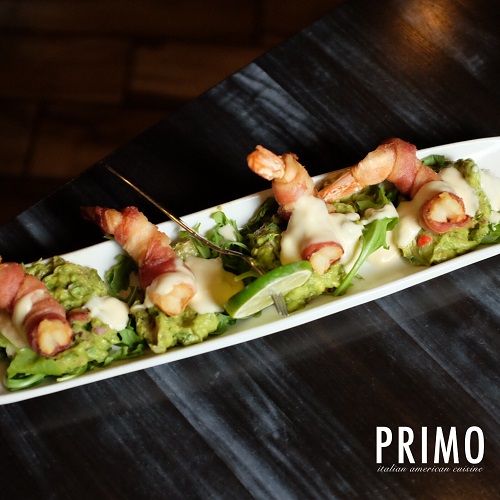 Bacon-Wrapped Shrimp
Three jumbo red shrimp wrapped in thick-cut bacon with an avocado salsa & rum butter sauce.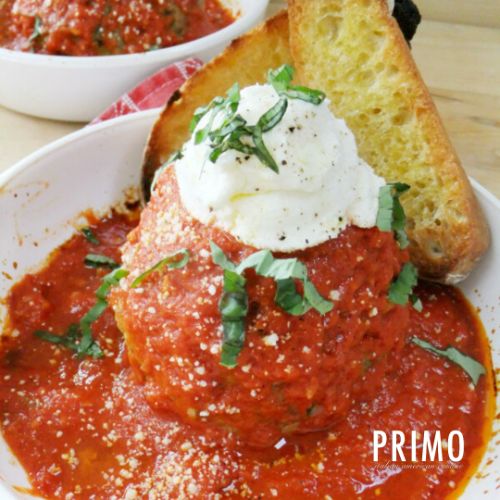 Wagyu Beef Meatballs
Two ground Wagyu beef meatballs topped with seared burrata cheese. Served over a chunky tomato sauce.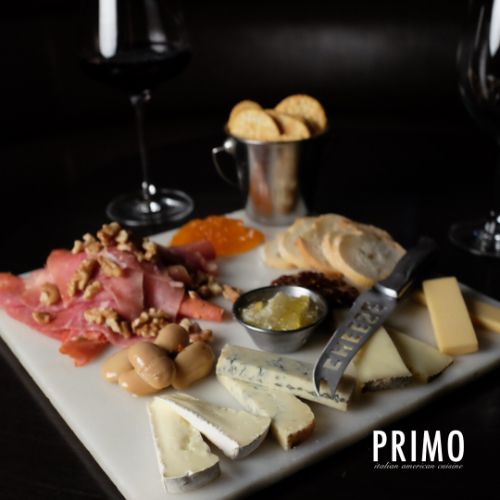 Charcuterie Board
Assortment of artisanal meats & cheeses. Served with sliced Italian baguette, large Italian beans, honeycomb, fig jam & apricot jelly.
Primo Feature - Smoked Pork Shank
Crispy smoked pork shank glazed with a Thai-chili sauce. Served with white corn tortillas and a tomatillo salsa.