Appetizers
Start your meal with one of our award winning appetizers!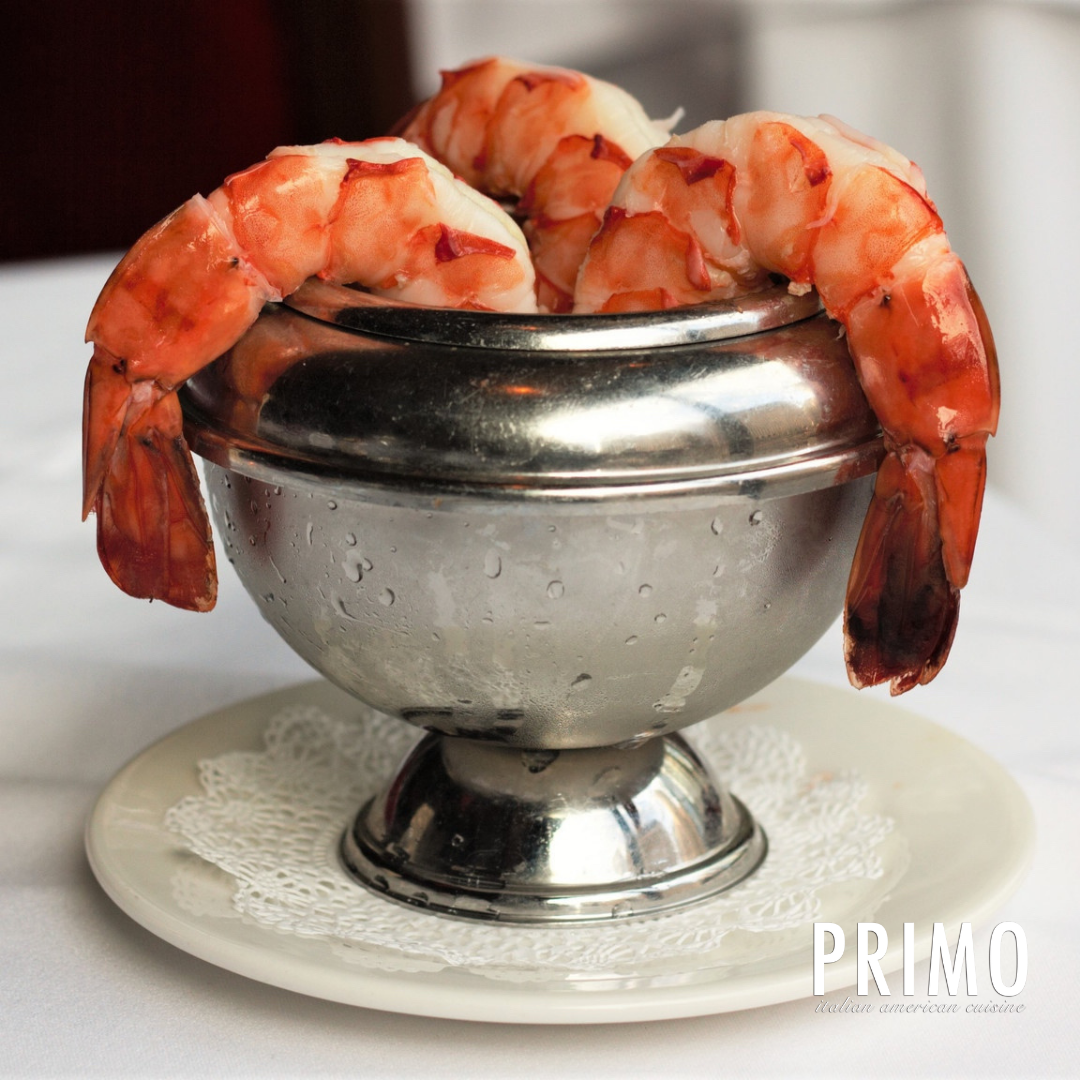 Shrimp Cocktail Starter (GF)
Four jumbo red shrimp served with spicy cocktail sauce & fresh horseradish.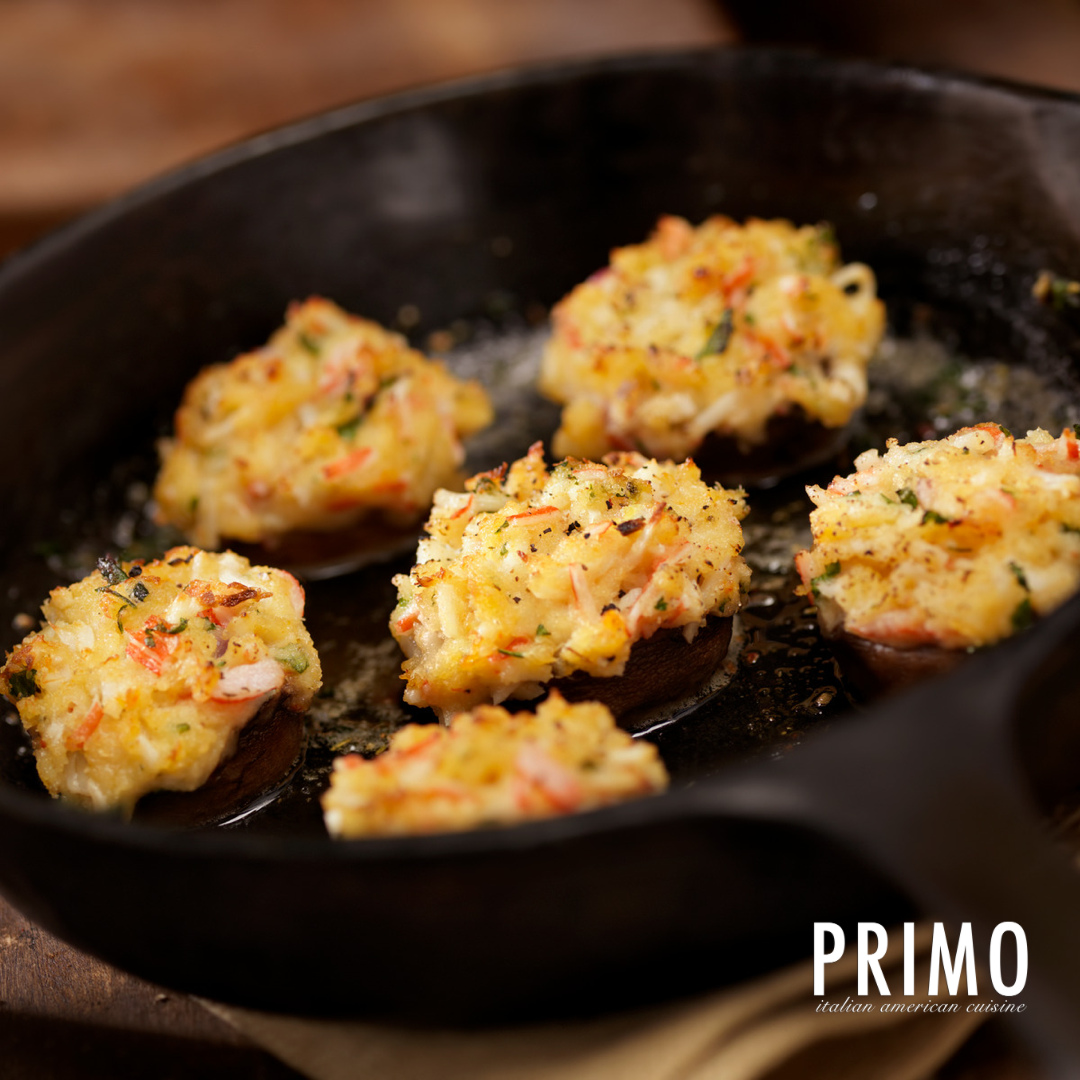 Crab Stuffed Mushrooms
Fresh lump crab mixture stuffed into large button mushrooms, topped with a spicy aioli.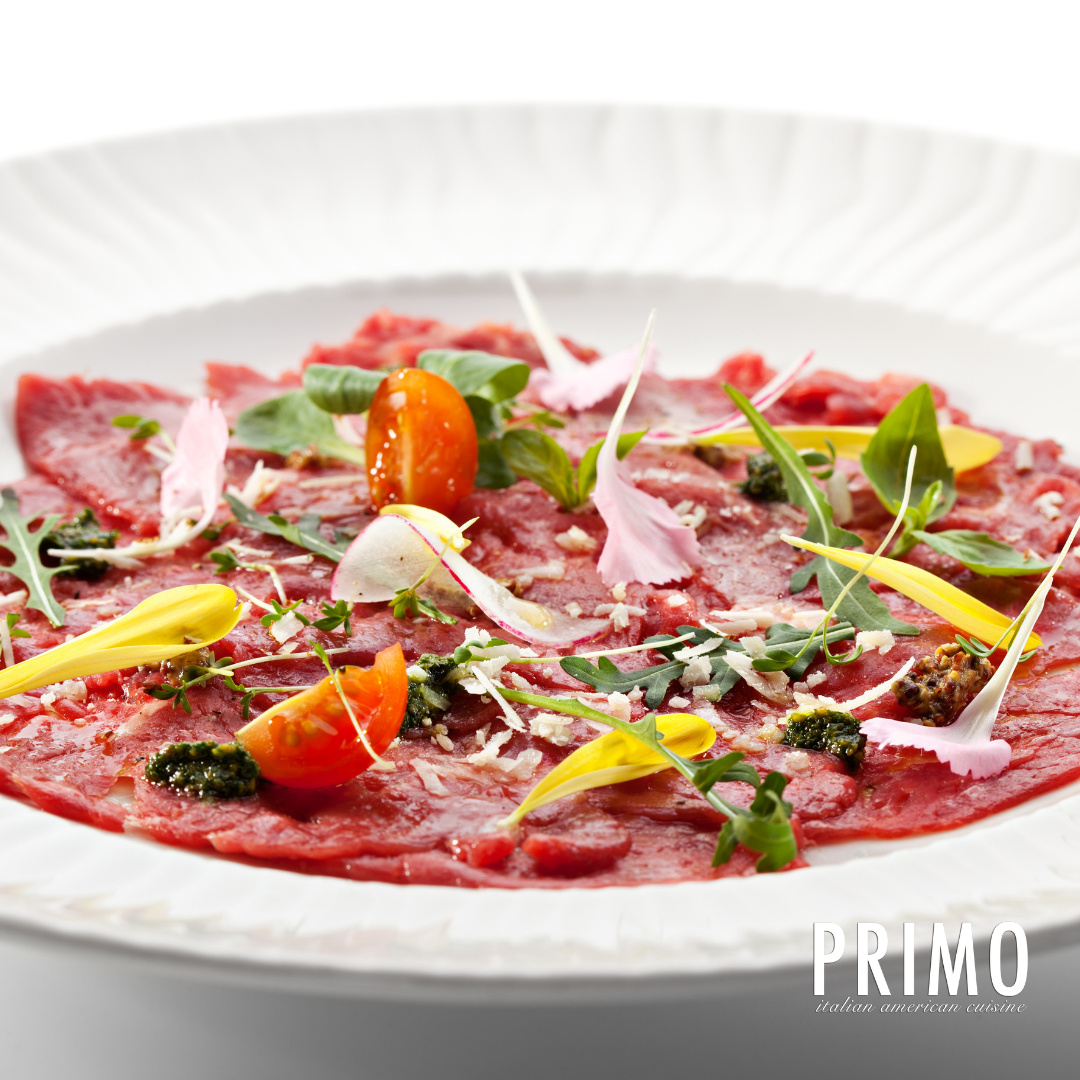 Beef Carpaccio
Thinly sliced prime beef tenderloin with capers, red onion, virgin olive oil, fresh cracked pepper and sea salt. Served with a parmesan crisp.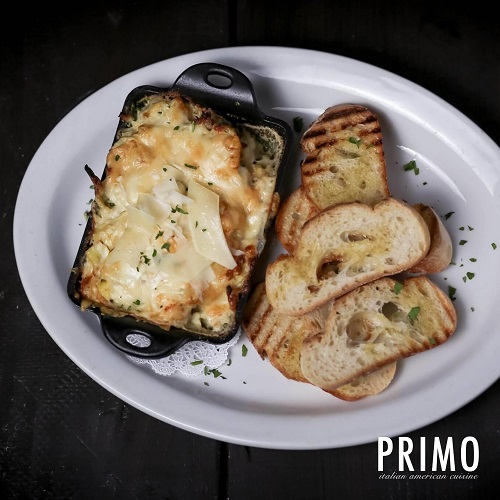 Roasted Artichoke Spread
Garlic & Parmesan roasted artichokes blended with our four-Italian cheese spread. Served with grilled crostini.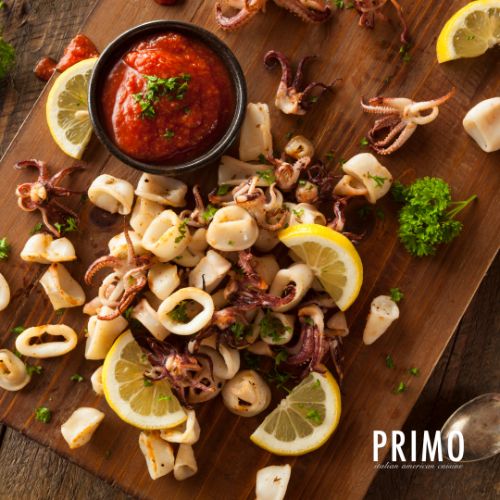 Crispy Calamari
Fried hand-battered calamari with roasted red peppers & served with house dipping sauce.
Crab Roll
Spicy crab rolled with sushi rice, arare seed and spicy mayo.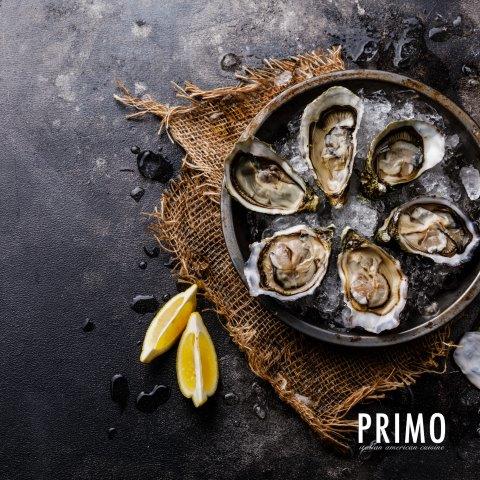 Seasonal Oyster (GF)
Per piece. Served with red wine mignonette, spicy cocktail sauce, tabasco & lemons.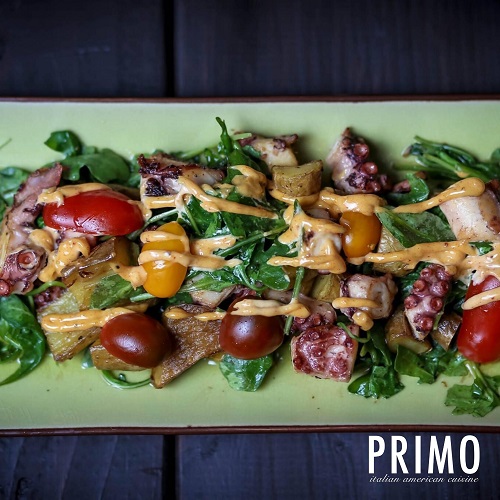 Grilled Octopus
Grilled Spanish octopus tossed in Mediterranean oil with baby heirloom tomatoes, roasted fingerling potatoes & crispy baby arugula.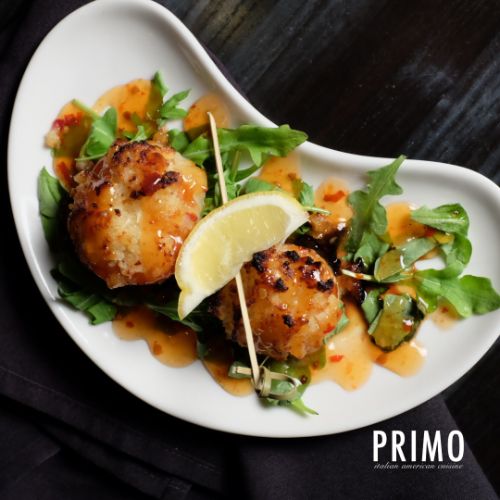 Sweet & Sour Scallops
Two jumbo seared scallops with Parmesan crust & a Thai-chili sauce.
Burrata and Prosciutto
Fresh Italian imported burrata served with a truffle-honey jam and crispy Prosciutto di Parma. Served with toast points.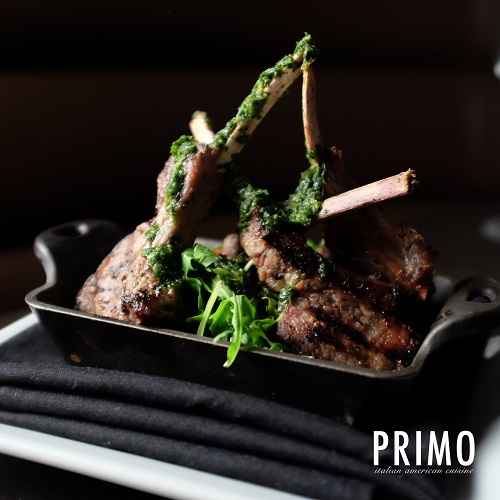 Lamb Lollipops
Grilled lamb chops with a mint, basil, lemon & garlic-infused olive oil.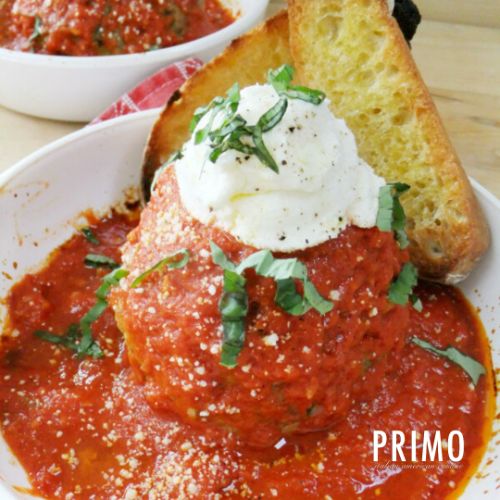 Wagyu Beef Meatballs
Two ground Wagyu beef meatballs topped with seared burrata cheese. Served over a chunky tomato sauce.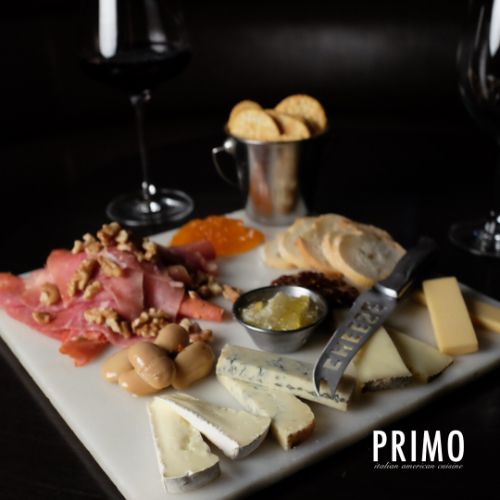 Charcuterie Board
Assortment of artisanal meats & cheeses. Served with sliced Italian baguette, large Italian beans, honeycomb, fig jam & apricot jelly.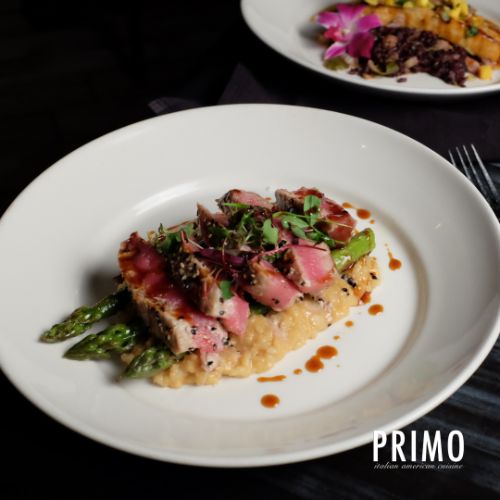 Seared Ahi Tuna Starter
Grade A Ahi tuna, served with a thinly-sliced orange, wasabi cream, arugula and Parmesan cheese.
They See Me Rollin
Combination of lobster, shrimp and crab salad topped with crispy bacon, and bibb lettuce on a brioche roll. Served with Parmesan kettle chips.